There aren't many strangers out there intrigued by my life for me to be so vain to believe that people want to know more about me. I use this excuse, along with the fact that I don't prefer to write about anything too personal, to justify not opening up. However, for today's post, I want to write about the last two years of my life, simply because I'm proud of myself for overcoming something I didn't think I could and I feel it'll be alright to share a little at this point.
2018, and even most of 2017, was a very difficult time for me. Everything was a mess and everything was painful. I can write about this now only because the struggle is over and has been over for a year. All of 2019, which was about recovering and getting back on my feet, was wonderful. I can't get myself to use certain terminologies here but I can paint the picture enough for anyone to understand. In 2018, all my fears were on the surface for me to deal with every day. I was the worst, weakest and most sensitive version of myself. For a continuous stretch of several months, there wasn't a night when I laid my head on a pillow that wasn't soaked in tears. There was no point in changing them because, for reasons I still don't know, there weren't any shortage of tears. Mornings were worse because it's not really nice to wake up at 1 P.M. every day with the first thought in your head being some not-very-nice thoughts. Anyway, push this to the deepest extent, that was my 2018.
Thankfully, I have people in my life that decided it was time to put their foot down and started to push and encourage me to get better. I hit the jackpot in having an incredible family and friends with hearts of gold. My amazing parents acknowledged the worsening situation and nudged me in the right direction without any judgement; only love and support. My friends, being as busy as they were, never failed to let me know I'm worth so much more than what my mind's telling me. I don't know what I've done to deserve the people in my life. The specific lessons I've learnt from my mother, father, sister and friends have saved me in so many ways at so many times.
It's for this exact reason, every time the topic of mental health comes up, I make it a point to draw attention to the fact that one needs to reach out and ask for help from the people around. You owe yourself that. Your mind can play very dirty games on you and it's not something you should have to deal with by yourself. That's what helped me – everyone around offering their help, me eventually learning how to take it and then asking for it myself.
Another reason I wanted to write a little about this is that every time I've spoken about mental health or shared a personal story, I've received messages from people online that I haven't spoken to or met in years finding some level of comfort in what I've had to say. Acquaintances that I know, but would never imagine as people who've been through similar experiences. That's when I realise that we all go through shit to some extent. I know my friends struggle. We all do, but we're convinced that everyone else always has it together. Life can be hard for all of us, with different things causing each of us to be strained or unhappy. Being kind and empathetic, to reach out and root for each other matters so fucking much – offering your help to the people you care about and asking for it when you're down. It's not a challenging task for all of us to collectively look out for each other. Someone at some point is always in need of some support.
I'm writing this on November 24th, 2019. I just spent the last 20 minutes dancing in my room. About a year ago, I was more than convinced I'll never see this day. I believed so strongly that I'll never feel joy and I felt that way for so damn long. Longer than a year. I had experienced tamer versions of this many years ago for a month at most. This, however, was gruelling and lasted for months and months. But today, I'm dancing to my heart's content, writing this post because I want to absorb this present moment of ecstasy and reflect back on how far I've come.
"Hope" and "patience" have been my two favourite words this year. I almost want to get them tattooed, but probably won't (I really shouldn't) 😛 The tiniest glimmer of hope can pull you out of anything unpleasant, no matter how deep or how long you've been in it. You need to have some faith in yourself. Patience is just as important. It matters to learn how to wait for all the wonderful things that are coming your way, learning to trust the timing of things and respect why things happen when they do.
Circumstances weren't different for me in 2018 and 2019. There were no major life changes that took place between these two years that would cause one year to be better or worse than the other. That's why mental health matters. For me to be excited today for the new decade and genuinely enthusiastic about the future in general means a lot. I've been overwhelmed by how happy my heart is. I'm proud that I'm finally thrilled to live the life I do and wholly grateful for my family and friends 🙂
2018 will forever be the worst year of my life. It can all happen again, but the lessons learnt have already come in handy for me and the people I care about. 2019 will forever be the best year of my life because it's always going to be proof to me that things always get better. Of course, the year wasn't sunshine & rainbows all day every day, but I was healthy. Everything has a way of working itself out if we hang in there. Hope and patience.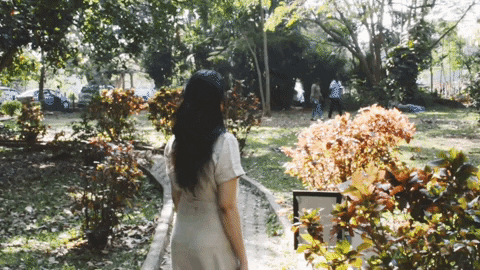 As I mentioned earlier, I am looking forward to the new year. The blog is now two years old and during the course of all the insanity, writing here was my favourite thing to do. Thank you to everyone that takes the time to read the stuff I put out. I'm truly appreciative of all the feedback ❤ I have a lot of content planned for 2020 – blog posts and videos I'm very excited about. So, see you very soon and have a happy new year! ⭐ Be a kind bitch – to others and to yourself.
---